By Sally Jasmin Sarma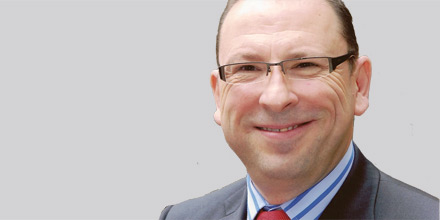 Advisers have many reasons for using index funds, but essentially they are just one weapon in an IFA's armoury, according to Tim Collyer, chartered financial planner at London-based Alexander House Financial Services.
'Passive is simply another tool in the active IFA's tool box,' said Collyer, who added there were a variety of reasons why IFAs used passives.
'At one extreme, there are [passive] evangelists: they believe the story and live it,' he said. At the other extreme, are those who are 'all about the advice: the investment is secondary so low-cost passives work for them'. Alternatively, 'they are trying to keep overall advice costs down', he said.
'Replacing some or all actives with passives lowers the explicit and transparent cost to the client, leaving more room for adviser fees. This is harsh but true.'
L&G International Index Trust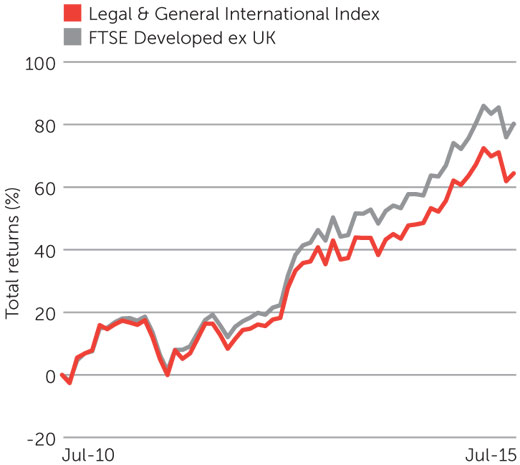 'The L&G International Index Trust recently reduced costs to 0.13% ongoing charges figure,' said Collyer. 'It has a low tracking error.'
He said that although the fund was reliable, it had a lower overall performance than the Vanguard FTSE Dev World ex-UK Equity Index fund.
Over the past five years, it has returned 64.4%, less than the Vanguard fund, which tracks the same index. 'It remains to be seen if the lower cost feeds through to performance,' he said.
TOTAL COSTS: 5/5
TRACKING ERROR: 4/5
OVERALL USEFULNESS: 5/5
FIRM'S ALLOCATION: 10%
Not one direction
Collyer's approach is based on having 'investment reasons to selectively use passives in specific markets'. These include US equities, emerging market equities, fixed income and small funds. In some of the lower risk portfolios, people are using passives for fixed income.
'With yields being as low as they are and margins very tight, costs can take up a big proportion of that,' he said.
He believes passives can also outperform if markets have no clear direction, and the lower costs can have an impact.
'In uncertain markets, actives and passives perform about the same, changes are unpredictable so there is no premium to knowledge,' he said. 'In rising markets, if you pick the right active, it can outperform.'
Collyer said advisers should consider passives in global equities. 'It is not an area where they would normally want to be selecting funds,' he said. 'The universe is too wide and most IFAs don't have the specialist knowledge to select individual funds or allocate between them.'
Advisers should not try to be experts on everything, said Collyer: 'It is far better in most cases to add value by selecting appropriate UK funds, small cap equities and in other specialist areas like pharma and commodities.'
Vanguard FTSE Dev World ex-UK Equity Index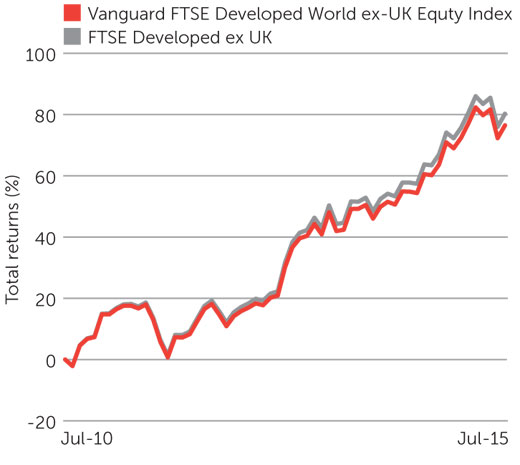 The Vanguard FTSE Dev World ex-UK Equity Index fund has returned 76.5% over the past five years. It also has a low cost.
Collyer said: 'The 0.15% ongoing charges figure is a good, low cost. It tracks the index and has consistently outperformed the UK Global Fund Average.'
He said the fund performed better than the L&G fund. It pays a dividend once per annum.
TOTAL COSTS: 5/5
TRACKING ERROR: 3/5
OVERALL USEFULNESS: 5/5
FIRM'S ALLOCATION: 2%
Staying Sharpe
When considering which passives to invest in, Collyer takes tracking error into account, but looks at a range of factors. 'I tend to look at Sharpe ratios to determine the risk-adjusted return rather than overall performance,' he said.
The Sharpe ratio is the return of an investment (which could be an active or passive fund) minus the risk-free return (such as US Treasuries), all divided by the volatility (measured by standard deviation) of that investment. It is a useful way of looking at return while taking risk into account.