Is A Self Invested Personal Pension Right For You?
In the past two years, due to pensions reform, the UK pensions market has undergone radical change. Savers now have more autonomy and more choices now than ever before.
Whilst this is undoubtedly a positive development for many, it also means that savers need to be better informed than ever before about the benefits and potential downsides of different types of pension.
The Self Invested Personal Pension (SIPP) gives you control over your investment choices and this blog will explore what you can gain from this type of product.
Traditionally, pensions were policies sold by and managed by large providers, like life insurance companies. Pensions would tend to be invested in funds managed for the pension company by a fund manager, meaning that you would be limited in your investment choices for the money held in your pension.
A SIPP is quite different. It is a DIY flexible pension policy that enables you to invest in a wide range of investment types, with the assets held in a 'pensions wrapper'. You should make you're your SIPP investments are either allowable under HMRC rules or otherwise they will be taxable investments. Most SIPP providers will not accept taxable investments, so you do need to exercise care when making self investments.
Who might benefit from a SIPP policy?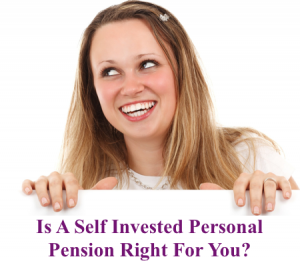 Pension companies are paid for their ability (in theory) to maximise the return on investments and minimise risk. However, there are individual investors often understand how to profit from investing already.
If you understand investing, are happy to do your homework and work out what investment opportunities suit your needs then a self invested pension might well be a good opportunity for you.
However, as any seasoned investor knows, the value of investments can go up, but it can also go down.
Stepping out on your own can be liberating but at the end of the day any poor investment decision made by you will see your fund decline in value.
What do I do with my SIPP?
You can put a variety of different types of investments into your SIPP, so choosing a mixture of low, medium and higher risk stocks, shares and bonds (among other investments).
One of the advantages of a SIPP is the government tax relief you will receive when making an investment. If your personal rate of income tax is 20 percent, this is the rate of tax relief that will be applied to your SIPP. That means if you pay £8,000 into your SIPP, the taxman will put in another £2,000 to make it up to £10,000.
Just like any other pension, there are limits to the contributions you can make into a SIPP every year and over your lifetime. Under current rules you can contribute as much into your SIPP or other pension as you have earned each year, up to a maximum of £40,000 (for the tax year 2015/16).
From April 2016 the annual allowance will reduce by £1 for every £2 earned in excess of £150,000, tapered down to a minimum £10,000 pension allowance for those with salaries of £210,000 or above.
Over your lifetime you can make as many pension contributions as you like, but there is a limit to the amount of tax relief you will get. This means you will have to pay tax on any pension savings that you make in excess of the current lifetime allowance, which is £1. Million in 2016/17
The excess will be taxed at 25% (on top of any Income Tax) if you draw it as an income such as annuity, or at 55% if you take the money as a lump sum.
What else do I need to look out for?
You will be looking at setting up fees and most, not all, SIPPs charge an annual fee, anything between 0.5 percent and one percent of the total value of your investments per annum.
Therefore, on a £100,000 pot you could wind up spending £1,000 a year in fees. You are also responsible for the cost of your own trades, which might be anywhere between £10-£15 a time.
Before you commit yourself to any investment you should talk through your needs and priorities with a professional financial advisor who is an expert in the field.
The Financial Conduct Authority does not regulate taxation and trust advice.
LEVELS AND BASES OF RELIEFS FROM TAXATION ARE SUBJECT TO CHANGE
THE VALUE OF INVESTMENTS AND INCOME FROM THEM MAY GO DOWN. YOU MAY NOT GET BACK THE ORIGINAL AMOUNT INVESTED