With more of us living longer, the government is rethinking the state pension system to reduce the ever-growing burden on the treasury.
There are several major changes coming. The state pension will get a major overhaul in April, with the introduction of a new 'flat rate' payment to replace the unwieldy two-tier system.
Even more pressing, if you are an employer, is Auto enrolment.
A pension for your employees. More responsibilities for you.
To ease the pension burden on the state, the government is in effect making workplace pensions compulsory. Membership of such schemes used to be optional, which meant many people never joined their workplace scheme. Under the new rules, it's automatic – hence Auto Enrolment pension.
That means you are responsible for finding a suitable pension provider and an appropriate scheme. That's before enroling all your eligible staff and contributing towards the scheme on their behalf.
Auto enrolment makes things easier for your staff. They don't have to do anything to enrol and start preparing for a comfortable retirement – but it can be anything but automatic for you. In fact there is a long list of added responsibilities you'll need to attend to. And you'll need to start now.
How do I organise Auto enrolment for my staff?
With thousands of companies suddenly needing to provide pensions for the first time, there's some confusion – but don't think you can plead ignorance. You have to be ready to start the Auto enrolment process by your staging date – the date set by the Pensions Regulator as your company's start date. Fortunately, the Pensions Regulator will be happy to work with you to help you provide a compliant scheme for your staff, but it can impose some nasty penalties if you don't meet your obligations.
If you have not already heard from the Pensions Regulator telling you your staging date you need to go on their website to find it.
Fortunately, you'll also find plenty of help. It also offers detailed guidance on what kind of pension scheme you need to offer, which should help you decide whether any existing scheme will meet Auto Enrolment standards.
Check your existing scheme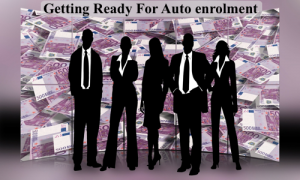 If you already have a workplace scheme, you may be able to use it for Auto Enrolment, perhaps with a few changes to the scheme rules or terms and conditions.
Speak to the trustees or scheme provider to ensure it meets the government's governance standards and charge controls. They will be able to help with any changes necessary.
If your current pension scheme is suitable, you will need to have it verified to ensure that you will be fully aware of any amendments required.
Setting up a new scheme
Certain schemes will not be suitable for Auto enrolment. If yours is not, or if you don't currently have a scheme at all, you'll need to arrange one without delay.
You are free to choose your provider. But not all pension providers will welcome all employers. Some won't see smaller clients as profitable. Others might only work in certain sectors.
Once you have drawn up a shortlist, you need to start looking at exactly what the provider can offer. Getting the right performance is vital – for example, over a 40-year period, an annual return of 7% will deliver a fund 30% higher than one achieving 6%.
You want to make sure your employees' pensions are in safe hands. You need to know that the provider is well-established and their business is well governed, and that they can offer good, dependable performance.
Help is at hand
Auto enrolment means that you suddenly need to be a pensions expert. And the chances are your staging date is close - so you'll need to be ready now.
The best solution is to get professional advice. Fortunately, it's easy to get - simply by calling our workplace pensions team.