Would we be better off staying in the EU – should Britain be the first country to take its leave – and with almost half of UK exports going to the EU, what could it mean for your business?
These are questions we all need to think about in the in the run-up to the 23 June in-out referendum. There may be no clear answers.
About a third of FTSE 100 companies support Britain's continuing membership of the EU. 75% of the 190,000 companies that make up the CBI felt that EU membership was good for their business, making it easier to sell products as well as recruit and transfer staff to fill skills gaps.
But others believe Brexit – Britain leaving the EU – would let them avoid unnecessary and time-consuming regulations, and make free-trade agreements easier to secure. Lord Bamford, chairman of construction equipment company JCB, sees the UK working "peacefully and sensibly" outside the EU, with an exit enabling Britain to "negotiate as our country rather than being one of 28 nations".
The impact on small businesses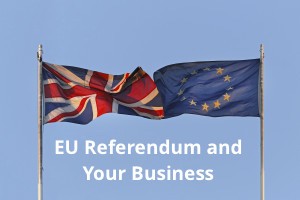 If big business is divided on Brexit, the owners of small companies show an even wider range of views.
Many small business owners believe the UK pays a lot into the EU without enough in return. There could be some truth in this. The UK is the EU's third largest contributor, with more than €4.7bn net contribution per annum. Away from Brussels, Whitehall would save money and have the power to review employment laws, health and safety and red tape. The EU's working time directive, for example, caps the working week and makes it difficult for employers to sack employees that are underperforming.
This bureaucracy is a major thorn in the side for many SMEs. John Walker, chairman of the Federation of Small Businesses, points to it as a key issue for his members: "Although the single European market gives SMEs access to 500m customers and £23m worth of business, the burden of regulation falls disproportionality on the smallest firms."
Others fear the effect that a Brexit would have on the wider economy. Richard Higginbottom, partner at domestic fuel merchant Fred Tarry, is one of them.
"We're a small local company, and we don't deal with Europe, but the entire British economy could be affected if we make the wrong decision."
He also pointed out that, were Britain to leave the EU, British companies would still be bound by EU regulations on exports but would no longer have any power to negotiate them.
"It's better to still be there and negotiate within," he added. However, he sees a lack of clarity about what Brexit might mean in practice as the biggest worry of all.
"You've got Lord Blackwell [Lloyds Banking Group chairman] and Lord Rose [former M&S chair], two senior people in the finance industry, saying exactly the opposite thing. As a layperson it alarms me," said Mr Higginbottom.
Eurosceptics believe away from the statutory regulations the EU administers, the UK would be free to become an unrivalled business capital and a centre for entrepreneurs where SMEs could flourish. Europhiles believe that business would be stronger in, with a larger base of trading partners.
But what will actually change?
Part of the confusion about the impact of Brexit stems from the fact that there is no clear picture of what would happen if it occurs.
If Britain leaves the EU, it will have to negotiate a new trading relationship to allow British firms to sell goods and services to EU countries without being hit by penalties or sparking a trade war.
Countries such as Norway, Switzerland and Canada, show what is possible, having negotiated trade deals with the EU without being members. Albrecht Ritschl, Professor of Economic History at the LSE, considers: "Under a UK exit, Britons would probably be tied to the EU through a tight network of bilateral treaties. There would certainly be a free trade area, there would hardly be any restraints on capital flows, so we have to ask whether, in purely economic and business terms, the difference would really be so big."
What should you do?
If you run a small business, the key questions you should probably be asking yourself are:
Do you trade with EU countries?
Do you supply firms that trade extensively with EU countries?
Are your suppliers EU based?
Do you employ EU nationals?
If the answers to any of these questions are yes, then Brexit may have a greater effect on you and your business than if your answer is no.
Perhaps the best solution is to get some professional advice about the possibilities for protecting your business or portfolio, whatever the future holds.