We often ask ourselves 'What if the worst happens?' We look at how to create your own welfare state and fill the holes in your financial safety net.
If the very worst happens, most of us have life assurance to take care of those we leave behind. But what if we manage to avoid the worst, but find that accident or illness left us unable to work?
The bills don't stop coming in, even if your income does. The chances of having a debilitating illness or accident that leaves you unable to work are statistically higher than premature death. It's an easy case to argue that some kind of replacement for your income is every bit as essential as life assurance.
You need protection
Doesn't the state provide support if things go wrong? It does, but the support it offers is hardly generous, or even adequate. You may get the basics, but if you have a mortgage, you could have real problems. The Government's 'Support for Mortgage Interest' (SMI) scheme provides help where mortgage payments cannot be made because of illness or unemployment, and the individual is in receipt of income related welfare benefits.
There is a 39 week waiting period for SMI and even then, the support is hardly generous. Those who qualify for SMI will get help paying the interest on up to £200,000 of their loan or mortgage. That can be a lifeline, but it comes with something nasty on the end. From April 2018, instead of being a benefit, SMI will become a loan, and interest will need to be paid on the debt as well as the outstanding capital amount.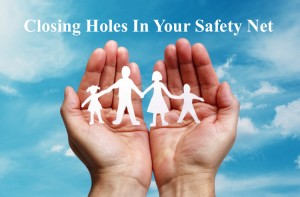 But there a number of ways that you can replace your income, and give your family the safety net they deserve.
Income Protection Insurance
Income Protection Insurance is a long term insurance policy to help you if you can't work because you're ill or injured.
It pays out until you can start working again, or until you retire, die or the end of the policy term - whichever is sooner.
It covers most illnesses that leave you unable to work, either in the short or long term (depending on the type of policy and its definition of incapacity).
You can claim as many times as you need to, while the policy lasts.
There's a waiting period before the payments start. You generally set payments to start after your sick pay ends, or after any other insurance stops covering you. The longer you wait, the lower the monthly payments.
Short Term Income Protection
Short Term Income Protection is also available. This also pays out a monthly sum related to your income, but only for a limited period of time (normally between two and five years) and can cover fewer illnesses or situations.
Term Assurance
Term Assurance allows you to choose to cover yourself for a specific term, such as the term of your mortgage or expected working life. You can choose between receiving a lump sum or a regular annual payment.
The advantage of this type of cover is that it tends to be low cost and the younger and healthier you are when taking out cover, the cheaper it tends to be. Costs can be fixed for the whole term of the plan and payouts are usually tax-free.
Critical Illness Cover
Of course, the chances of dying prematurely are far smaller than the likelihood that you'll develop a serious illness before you're due to retire. While medical advances mean that more people are surviving conditions that might have caused death in earlier generations, illness can still strike with debilitating results.
Critical Illness Cover typically pays out a cash lump sum, which can be used to replace an income temporarily until you are fit to work again, or if necessary on a permanent basis.
There are a wide variety of cover types available, from those that pay out for any kind of debilitating condition to those that cover cancer, heart attack and stroke, which between them make up nearly 80% of critical illness claims.
Severity Payments
Relatively new on the market, Severity Payments cover you in the event that you have a serious but non-life threatening illness not covered by Critical Illness Cover. So if you're looking for something that would still pay out a proportion of the sum assured for a less serious illness, you can pay a higher premium to include a severity based policy which will pay out, say, 50% of the total cover.
Finding the right safety net
Life and critical illness cover is extremely important and generally proves cost-effective: if you end up not needing it, you still have the peace of mind it brings, and if you do need it then the benefits can be literally immeasurable. But there are many options available, so choose carefully.
You should get help to work out how much cover you require, the right policy for you, the appropriate term and any additional options you may need.
If you're unsure about how best to protect your loved ones if anything happened to you, contact our life insurance team today.
'Click here to read our recent blog "Protecting Your Family If Your Are Too Ill To Work."