Getting ready to become an entrepreneur? The entrepreneurial lifestyle looks appealing; come and go as you please, make all the decisions and answer to nobody. Of course, if things go well, you can look forward to wealth too – but beware. All those benefits could be in reach - but to actually achieve them takes a lot of time, money and above all hard work.
It also takes a fair bit of financial planning.
Are you suited to running a business?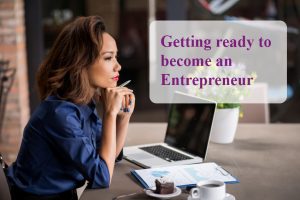 Running any small business is a risk. You need to face the facts; for every one that succeeds, there are several that fail. It's certainly not for those scared of taking risks. Even in the best circumstances, running a small business requires perseverance and determination. As the owner, all major business decisions require your involvement and the final say is down to you, so you need to be comfortable making those 'make or break' decisions.
If shifting circumstances, financial instability, and never being able to leave responsibility to someone else bother you, you might want to think again about running a business.
Are you willing to tolerate a period with minimal income or, in the worst-case scenario, no income at all? There's no guaranteed salary with entrepreneurship, and you can forget about things like a workplace pension, sick pay and paid leave.
If you are still determined to be your own boss, its an excellent sign. Most business owners live and breathe their business, so it's extremely important to be passionate about the business you own.
Can you raise the finance?
It is crucial that you understand your finances and your ability to leverage a business purchase. Assess your financial circumstances. Are you in a position to build a business without jeopardising your family's lifestyle? Are you (and they) prepared to make the sacrifice?
Think about how you will raise finance. The banks are less than generous with start-ups, although there may be cash available from private investors encouraged by government scheme like EIS. You'll still need to raise cash yourself, possibly by taking out a second loan on your home if nothing else is available.
Protection for you and your family
Once you get your starting capital sorted, the work really starts. Everything depends on you, and if you become ill, your business will probably not survive. Private health insurance could help you bypass queues and get treatment – and hence back to work – faster.
But its not just you who may need protection if you have a family. Life assurance should be a given, to provide for them if you could not, but its only part of the story. With no company sick pay to fall back on, its up to you to arrange cover for whatever the future holds.
There are two main types of protection to consider.
Income Protection Insurance
Income Protection Insurance is a long term insurance policy to help you if you can't work because you're ill or injured. It can be a little more difficult and possibly expensive to arrange if you are self-employed, but it may be even more important for you.
If you become sick or injured it pays out until you can start working again, or until you retire, die or the end of the policy term - whichever is sooner. It covers most illnesses that leave you unable to work, either in the short or long term depending on the type of policy and its definition of incapacity.
Short term Income Protection is also available. This also pays out a monthly sum designed to help replace to your income, but only for a limited period of time (normally between two and five years) and can cover fewer illnesses or situations.
You can also arrange Critical Illness Cover, which pays out a cash lump sum if certain illnesses strike. There are a wide variety of cover types available, from those that pay out for any kind of debilitating condition to those that cover cancer, heart attack and stroke, which between them make up nearly 80% of critical illness claims.
Protection for your business
You will need cover for your business activities themselves if you register as self-employed or work as a limited company. Most small businesses take out public liability insurance. It will protect you if a third party injures themselves, or damage is caused to property because of your business activities.
If you provide professional services or advice to clients, you should also consider getting insured for professional indemnity to cover you if a client sues you because they are unhappy with work you have done or advice you have given.
If you employ anyone else you are legally required to take out employers liability insurance. You will need cover of at least £5 million and you must display your certificate of insurance where employees can easily read it.
Think about the future
But perhaps most important of all is the need to start planning for the future. Every employee can look forward to an auto-enrolled workplace pension as well as a state pension. As an entrepreneur, you will have no such luxury.
A retirement plan is essential, and you'll need to find a pension plan which can accommodate payments that may sometimes need to be sporadic.
Get help now
If you are going to be your own boss, you'll be needing a whole range of financial support. Help with raising funds, help with protecting your business, and help with arranging protection for your family.
If you're about to start your own business or buy an existing one, contact our workplace financial team today.
Click here to read our recent blog "Tax-Planning Tips for Businesses at Year-End"
The Financial Conduct Authority does not regulate taxation and trust advice.
Levels and bases of reliefs from taxation are subject to change.