Understanding your risk profile - When you sit down with your adviser to talk over how to invest your retirement savings, chances are he or she will give you a questionnaire about your risk tolerance and financial goals. We look at what that's all about and why it is so important for you to get it right.
You can't plan financially without understanding investment risk.
Many people, when they hear about 'risk', think automatically about the chance of being defrauded. This kind of risk is real of course, but thankfully it is rare provided you deal with legitimate businesses. But the fact is all investments involve risk, simply because the future is unpredictable. When you make an investment, it can be impossible to say with any certainty what you'll get back when you finally cash it in. Share prices fluctuate, interest rates vary and inflation creeps – or even at times runs - up on us. They all contribute to risk.
You might want to avoid any risk when it's your money. But the higher the risk, the greater the potential reward. If you want to grow your wealth, you'll have to accept a degree of risk. But how much is right for you?
How can you assess risk?
Some assets are low risk, and some are high. Which you choose will depend on your attitude to, or appetite for, risk.
No risk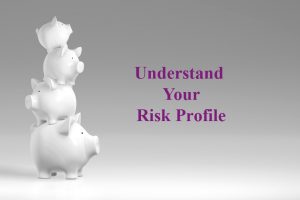 If preserving your capital is the most important factor for you, you are more likely to restrict your savings to cash deposits, cash ISAs, interest bearing savings accounts and similar products that also offer ready access to your money.
Banks are about as safe as you can get (although as we've seen they can fail) and your savings are covered under a depositor protection scheme.
Remember, though, inflation can eat your capital and reduce the real value of your money over time.
Low risk
If you want reasonable returns for growth or income, but want to protect your capital if markets fall, you'll need low risk investments. Government bonds, and stocks and shares in the more dependable institutions may be appropriate. You may need to keep your capital invested for five years or more to ride out any fluctuations.
If you take out your investment at the wrong time, you could still find that you get back less than you put in.
Medium risk
If you want the opportunity to achieve attractive returns but you also want to invest in a way that does not expose all of your capital to more riskier investments, you'll probably need a broad mix of investments. You'll need to accept that risk is inevitable, and that the chances of higher returns have to be balanced with the chance of higher losses.
High risk
You are an experienced investor and are prepared to take on very high levels of investment risk, you could achieve exceptional returns, if you accept you could lose some or all of your underlying capital.
What kind of investor are you?
Your attitude to risk can be determined by your circumstances, age, goals and other factors, which means that it's likely to change over time.
If you are starting out in life, you might be prepared to take substantial risks, with the chance of making money fast, and plenty of years to make up any losses if things don't go quite so well. You could lose out – or you could find your retirement pot is off to very good start. You might even be able to retire early.
As you get closer to retirement, though, you'll want to reduce risks, because if something goes wrong there is less time to put it right. More security means a more cautious approach – but your returns are likely to be lower even if they are more consistent.
So there is no single answer to the question of what kind of an investor you are, or should be. Your approach will need to change over the years. Investment professionals will usually recommend a spread of investments, with both low and higher risk holdings, and moving the proportions of each as the years go by.
If you're unsure about how to invest or what types of investment are suitable for you, contact our investment team today.
Click here to read our recent blog "Increase Your Savings Vs. Paying Your Mortgage Off Early."
The value of investments can go down as well as up and you may not get back the amount invested.
The Financial Conduct Authority does not regulate taxation and trust advice.
Levels and bases of reliefs from taxation are subject to change.