Stock markets have had an awful start to the year – down 20% from their April 2015 high in some cases – so it's even more important than ever to be in funds where the fund manager is earning their fee, and making your money grow.
If you have money in an investment fund, you can't guarantee it will perform well year in year out. But you don't want it to be in a fund that's not doing well. Here's how to review your funds and what to do.
Is your fund a loser?
Too many people have invested their hard-earned money, and never realise that it is stagnating in poorly performing funds – or that by moving their money they could see it growing a great deal faster. The problem is of course that no fund will actually tell you that it is doing badly. Most investment funds have a benchmark, which they aim to beat. The benchmark will vary depending on the type of fund it is.
Obviously, no single fund will always come out on top, and probably no single fund will always be the worst performer. But if your fund consistently fails to beat the benchmark year after year, and does it by a substantial margin, you are certainly losing money.
You need to keep an eye on the performance of your funds. But unless you have a head for figures and time to spend analysing date, that could to be easier said than done.
Get the analysis done for you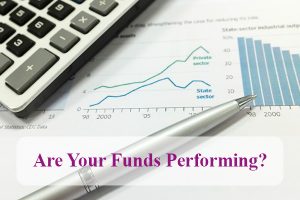 Fortunately, there are now simple ways to track the performance of almost any fund in the UK.
The 'Spot the dog' report is published every year, tracking the performance of investments such as Unit Trusts and OIECs, and comparing them with the sector benchmark.
For a fund to qualify as a dog, it must underperform its sector for three years in a row, and do it by at least 10%.
The latest report says that there over 50 funds that haven't managed to beat the benchmark for three years in a row. If your fund is among them, you need to think very carefully what you should do.
What should you do if your fund underperforms?
If your hard earned savings are sitting around in underperforming funds, the likelihood is that you will have significantly less money in the future. Being able to see which funds have such bad performance that you need to dispose of them could help you get your portfolio back on track.
But you should not automatically sell. There are many reasons why funds go through periods of poor performance. The poor performers should not be seen as a list of funds that should be automatically sold, as it is based purely on analysis of past performance. This may not be the most reliable guide to how it will perform in the future.
Remember, there are many different styles of investing and some funds have distinctive investment approaches that can go through periods that are deeply out of step with the current markets, but could be about to come back into favour. Some management styles are better suited to tougher times, others to rising markets.
So if your fund is underperforming, you might want to know why – and what if anything is being done to improve performance. For example, if a new Fund Manager with a strong, proven track record elsewhere is appointed or a change of investment approach is now being applied to a fund that has historically underperformed, performance could be turned around.
Deciding whether to stay invested or switch is all about assessing its future prospects and whether you might be able to do better elsewhere. If you are dissatisfied with the performance of your current investments, it is best to get professional advice. If you would like some help to review your investment performance, contact our investment team today.
Click here to read our recent blog "Increase Your Savings Vs. Paying Your Mortgage Off Early."
The Financial Conduct Authority does not regulate taxation and trust advice.
Levels and bases of reliefs from taxation are subject to change.
The value of investments can go down as well as up and you may not get back the amount invested.