Over the next three years, the UK will change its entire retirement planning model, by taking Auto enrolment steps for the majority of employees into a workplace pension scheme.
Thousands of the UK's largest employers have already staged for Auto enrolment, and now it's the turn of smaller businesses. This is a critical phase for smaller employers, as the Auto enrolment process is high complex, and the consequences are high for failure to comply.
However, these ten steps will tell you everything you need to know about Auto enrolment , and help you tackle it successfully:
1. Discover your deadlines
The Auto enrolment process is being staggered over several years, so the exact date in which you must join the scheme depends on the size of your business. The Pensions Regulator website is a convenient place to check your company's staging date – all you need to do is type in your PAYE reference code.
2. Check staff eligibility
Not every worker in your business will automatically qualify for automatic enrolment in a company pension plan. For example, those aged 22 and under or earning less than £10,000 are not covered under the scheme, but you can still include them if you choose to.
3. Keep your workforce updated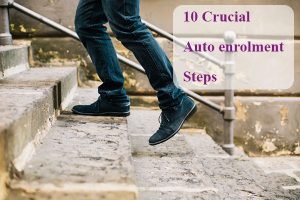 Once you know who will be automatically enrolled into your pension scheme, take time to explain the new system to those that qualify – and those that don't.
They will be given the opportunity to opt-out of the initiative, so it's important they are fully informed before making that decision. The fines for coercion are high, so be careful not to influence or be seen to your staff with regards to their choice.
4. Know your commitments
The amount you are obliged to contribute will change over time. For example, from October 2017, every workplace pension within the scheme will need to pay in 5% of an employee's monthly income as a minimum contribution. Of this, 2% must come from the employer and the other 3% made up by the employee.
By October 2018 this rises to 8% in total, with a minimum 3% contribution coming from employers.
5. Budget cautiously
Make sure you incorporate the introduction of pension contributions into your company's financial planning. Don't rely on opt-outs; although an estimated 25-50% of employees will decline the scheme, you should make forecast calculations based on 100% of your workforce signing up.
Remember to factor in the contribution increase over time, and also the impact bringing new employees on going forward will have on your contributions.
6. Register with The Pensions Regulator
Before you start the Auto enrolment process, it's important that you register your business with The Pensions Regulator, as you will be required to keep official documentation about your contribution to the scheme up to date with this official body.
Make sure you keep a record of all payments made into the scheme, as, once your staging date has passed, you will need to build six years worth of documentation, which you can produce at any given moment.
7. Choose a fund
This is perhaps the most difficult task for a small business to manage on your own. Most small firms rely on a pension provider to provide independent Auto enrolment advice. There are many different funds available, each with their own benefits, and an expert can outline these clearly for you.
8. Consult your existing pension supplier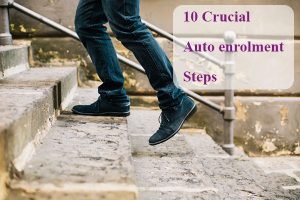 If you're already offering a pension scheme for your small business employees – fantastic. However, there's no guarantee that your existing provider's default scheme will be compliant with Auto enrolment regulations.
Consult closely with your current pension supplier to determine whether they meet the criteria, which includes offering a fund with a 0.75% price cap. If they are not aligned with Auto enrolment terms, consider whether they are the best company to go forward with, or whether you would be better off switching to another pension scheme provider.
9. Get enrolling
Now the work really begins! Leave plenty of time to enrol eligible employees ahead of your staging deadline, just in case there are any unforeseen delays along the way when moving over to your Auto enrolment pension programme.
10. Start making contributions
As an Auto enrolment employer, you have a guaranteed commitment to the future of your workforce. This is a mandatory scheme, and failure to comply will result in fines of up to £10,000 per day – so the cost of ignoring your staging deadline is extremely high. Don't get caught out.
More guidance on Auto enrolment
If you feel you could benefit from a little more Auto enrolment advice then download our guide today, to get started with your workplace pension scheme before it's too late.

The Financial Conduct Authority does not regulate wills, taxation and trust advice.
Levels and bases of reliefs from taxation are subject to change.