As adviser's for workplace pensions, in particular, helping businesses stage since 2014, we can confirm that many firms that have their heads in the sand.
Most clients, if not all of them, have underestimated the complexity of the legislation. This is a risk looming large for accountants, creating an Auto enrolment cliff edge.
Large businesses have had a pension scheme in place and will have staged under Auto enrolment by now. The smaller clients tend not to have a pension scheme in place and turn to their Accountant in the first instance.
Accountants have to face a serious dilemma
Who is going to set up a pension scheme for low paid, low contributing pension schemes? And often quickly, because the business owner has left it late to act. These issues are multiplied when you manage your client's payroll.
In the region of 200,000 pension schemes have been set up in the UK over the past two decades. In the next couple of years, we will require 1.35 million. At peak, this will be 33,000 schemes every week.
What Accountants need to understand about Auto enrolment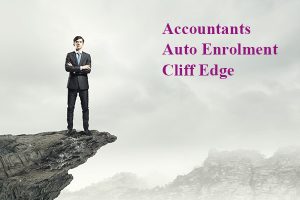 Even if you lack detailed knowledge, you will have already talked to some of your clients about Automatic enrolment.
Some of the questions you'll be asked include considering the types of earnings to be assessed; what a pay reference period is; the duty to enroll workers who opt in during the postponement period and the types of workers who are eligible for automatic enrolment.
Auto enrolment is the biggest change to hit small business since the minimum wage. It is arguably a bigger change than RTI and it needs communication with employees around the rules of who qualifies, who doesn't, opting in, and opting out.
Employers who have got by without payroll software, using HMRC's payroll tool instead, are going to be hit the hardest.
What Accountants can do about Auto enrolment
Your clients will be getting letters from The Pensions Regulator telling them when they need to have their Auto enrolment workplace pension in place.
If you are managing clients' payroll and have decided to offer support, we suggest you have three options:
Get on board: make sure your current payroll offering can deliver Auto enrolment and help clients yourself;
Get out of the way: outsource the payroll to a trusted provider;
Stand in the way: do nothing and hope it doesn't hurt too much when it hits.
If you aren't able to help your client with their workplace pension, they will go to someone else. Being proactive means you take the initiative with your client and can prevent them straying. From our experience, the sooner you help your client to think about the issues, the more value you can add to them and the easier it is for you.
Using your clients PAYE references, you can check yourself when they will need to be ready. The Pension Regulators website has this tool that can tell you their staging date.
Use the data to plan your communications approach. Some of your clients may need an immediate call. All will welcome your invitation to talk about it. Even if they haven't started, there are few businesses that aren't aware of it.
If this all seems overwhelming, then use your data help you decide if you want to find another business to partner with. The point is, your clients will want to hear about it from you.
If you are going to 'get on board' to offer your clients an Auto enrolment service, you should consider these areas carefully. They all need to work for you, not just in setup stage, but ensure you have a profitable ongoing business model.
Your provider of choice
There is a good selection of Auto enrolment pension providers. NEST is the government's default scheme. Each provider offers a range of service levels and charges that come with them. Finding one scheme and sticking to it is the simplest approach, but as your client needs to demonstrate due diligence, this may cause future legal challenges.
Suitable software solution
With much more functionality than just managing the numbers, suitable software will need to handle the communications to employees, integrate with the pension provider and for your own profitability, be a seamless end-to-end solution.
Define your service proposition
The business model for payroll is process and volume driven. It just works and should be scalable. Helping clients implement Auto enrolment is an advice led proposition. If you are unable to advise, partner here with someone that can, even if you are going to implement the solution.
Auto enrolment is a once in a generation opportunity to extend your services and help your client's thrive in the process. Contact us today to speak with someone about helping you with that.