64 years ago, the world was very different. Winston Churchill was Prime Minister, Vera Lynn and Doris Day ruled the musical charts, and Princess Elizabeth took the throne following the death of her father, George VI.
Fast forward several decades, and Elizabeth II is now Britain's longest reigning monarch, still going strong at 90 years of age. To celebrate her milestone birthday this year, we want to look at how wealth has changed in the Queen's lifetime.
The stock market has remained lucrative
Despite numerous financial crises, anyone investing in the stock market around the time of the Queen's birth would be sitting pretty today. A £100 share investment in 1926 would be worth more than £14,000 in 2016, including adjustments for inflation.
Housing has become less affordable
The bad news for anyone hoping to scale the property ladder is that housing is much less affordable than it was for our grandparents' generation, around the time the Queen was born.
According to research by the New Economics Foundation, house prices have risen at double the rate of average wages, despite closely correlating until the 1980s. Now, the same foundation predicts that first time buyers will need to earn £64,000 to buy their own home by 2020, and that this will drive people towards larger loans relative to their household income.
Productivity has stagnated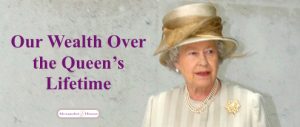 When the Queen first entered the world in 1926, the UK was a powerhouse of industrial production and manufacturing.
Over the past century, many of these sectors have declined and, although our country still remains economically robust compared to many surrounding markets, there is still cause for caution when it comes to investment.
Business confidence in turnover and profitability has stagnated, says a new survey by the British Chambers of Commerce (BCC). The study identified a holding pattern, and the BCC has urged Westminster to act, in order to reinstall faith in the UK economy.
The need for long-term wealth management has increased
We are all living longer since the time when Queen Elizabeth was born, and that does mean that financial planning has grown in importance.
Today, the average life expectancy is 81 years, compared to just over 70 years in 1926. This is great news for families, who are getting to see more generations enter the world, but it is having a considerable impact on financial planning.
The length of retirement is getting longer and longer, and becoming more costly as a result. Young professionals today need to concentrate on making pension contributions as soon as possible – preferably over and above the minimum levels set by the government's Auto enrolment scheme – and look at other ways to save for later life, or risk facing a debt crisis.
There aren't enough people planning for the end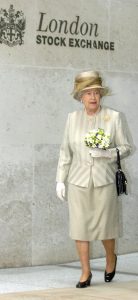 Although we don't like to think about it, even those people with a very long life expectancy won't be around forever. Yet not a big enough proportion of UK society are making sufficient estate planning to make sure their affairs are dealt with in the event of their death.
At a time of emotional vulnerability, no family, friends or loved ones want to be faced with complicated financial decision making. That's why it's critical to put wealth management plans in place now that will safeguard your finances even when you're gone – and ensure the right amount of money goes to the right people.
When you need to think about your financial plan, contact your adviser for an appointment.
The value of investments can go down as well as up and you may not get back the amount invested. Past performance isn't an indicator of future performance.
Information is based on our current understanding of taxation legislation and regulations. Any levels and bases of, and reliefs from, taxation are subject to change.
The financial conduct authority does not regulate wills, taxation and trust advice.
Research for this piece included the following sources:
BBC Queen's Official Birthday London Stock Exchange
Economics Help – UK Ecomony in 1920s New Economics Foundation