Education Centre
Alexander House Financial Services understands that different aspects of finance can be difficult to understand and quite daunting to say the least. Still, a comprehensive view of financial issues is imperative in order to best implement a solution. With that in mind, we're proud to introduce AHFS's Education Centre. Here, you'll be able to download different types of fact sheets that provide a thorough understanding of important financial issues, and learn exactly when you may need to seek advice or implement strategic solutions. If you need further assistance, please visit our Smart Alex website and we will assist you promptly.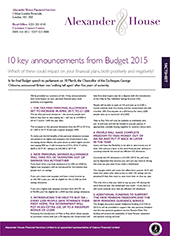 10 key announcements from Budget 2015
Which of these could impact on your financial plans, both positively and negatively?
---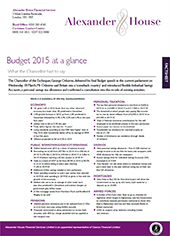 Budget 2015 at a glance
What the Chancellor had to say
---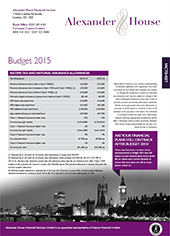 Budget 2015
Income tax and National Insurance allowances
---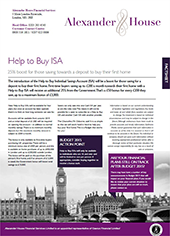 Help to Buy ISA
25% boost for those saving towards a deposit to buy their first home
---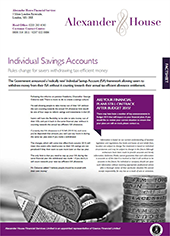 Individual Savings Accounts
Rules change for savers withdrawing tax-efficient money
---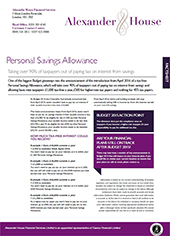 Personal Savings Allowance
Taking over 90% of taxpayers out of paying tax on interest from savings
---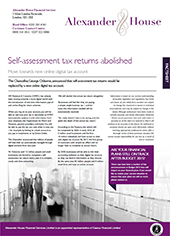 Self-assessment tax returns abolished
Move towards new online digital tax account
---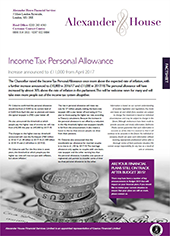 Income Tax Personal Allowance
Increased announced to £11,000 from April 2017
---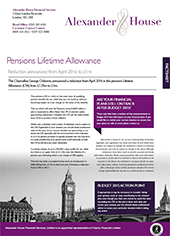 Pensions Lifetime Allowance
Reduction announced from April 2016 to £1m
---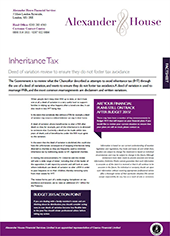 Inheritance Tax
Deed of variation review to ensure they do not foster tax avoidance
---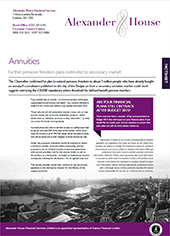 Annuities
Further pensions freedom plans extended to secondary market
---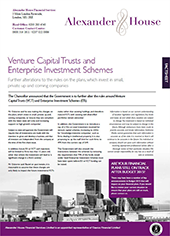 Venture Capital Trusts and Enterprise Investment Schemes
Further alterations to the rules on the plans, which invest in small, private up-and-coming companies
---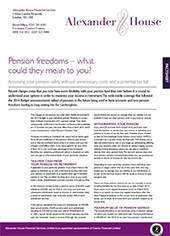 Pension freedoms – what could they mean to you?
Accessing your pension safely, without unnecessary costs and a potential tax bill
---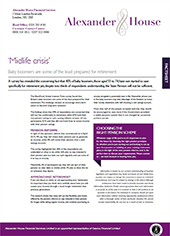 'Midlife crisis'
Baby boomers are some of the least prepared for retirement
---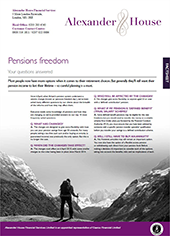 Pensions freedom
Your questions answered
---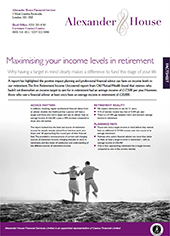 Maximising your income levels in retirement
Why having a target in mind clearly makes a difference to fund this stage of your life
---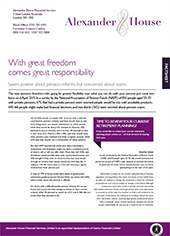 With great freedom comes great responsibility
Savers positive about pension reforms but concerned about scams
---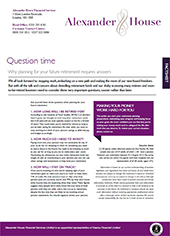 Question time
Why planning for your future retirement requires answers
---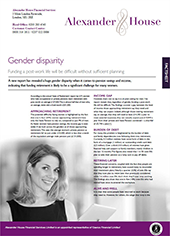 Gender disparity
Funding a post-work life will be difficult without sufficient planning
---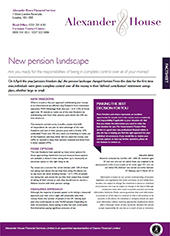 New pension landscape
Are you ready for the responsibilities of being in complete control over all of your money?
---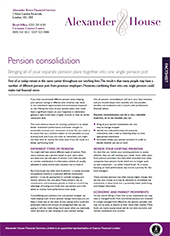 Pension consolidation
Bringing all of your separate pension plans together into one single pension pot
---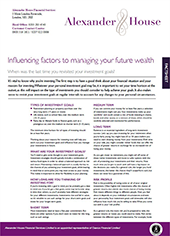 Influencing factors to managing your future wealth
When was the last time you revisited your investment goals?
---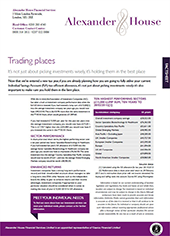 Trading places
It's not just about picking investments wisely, it's holding them in the best place
---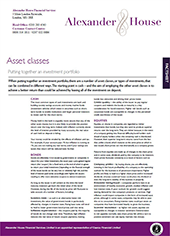 Asset classes
Putting together an investment portfolio
---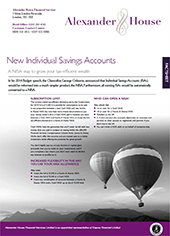 New Individual Savings Accounts
A NISA way to grow your tax-efficient wealth
---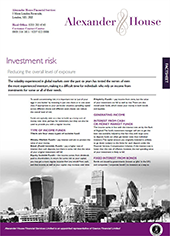 Investment risk
Reducing the overall level of exposure
---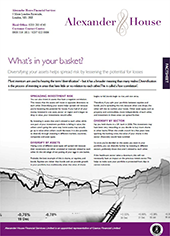 What's in your basket?
Diversifying your assets helps spread risk by lessening the potential for losses
---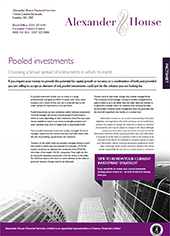 Pooled investments
Choosing a broad spread of instruments in which to invest
---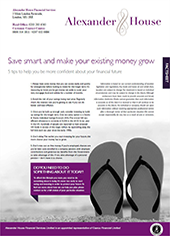 Save smart and make your existing money grow
5 tips to help you be more confident about your financial future
---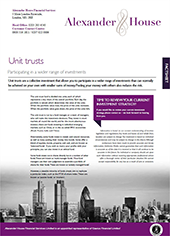 Unit trusts
Participating in a wider range of investments
---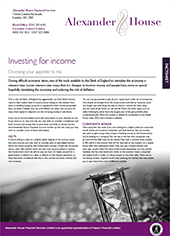 Investing for income
Choosing your appetite to risk
---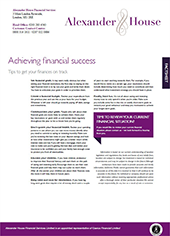 Achieving financial success
Tips to get your finances on track
---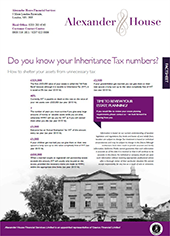 Do you know your Inheritance Tax numbers?
How to shelter your assets from unnecessary tax
---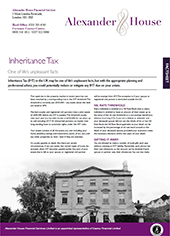 Inheritance Tax
One of life's unpleasant facts
---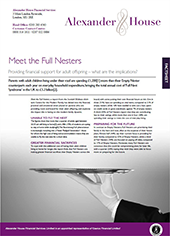 Meet the Full Nesters
Providing financial support for adult offspring – what are the implications?
---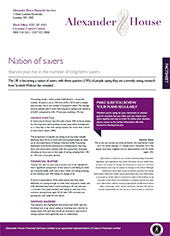 Nation of savers
Year-on-year rise in the number of long-term savers
---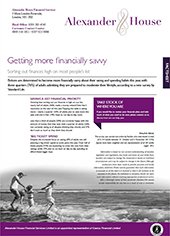 Getting more financially savvy
Sorting out finances high on most people's list
---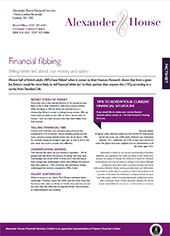 Financial fibbing
Telling 'white lies' about our money and salary
---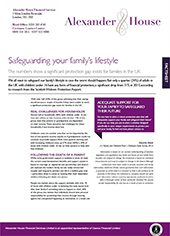 Safeguarding your family's lifestyle
The numbers show a significant protection gap exists for families in the UK
---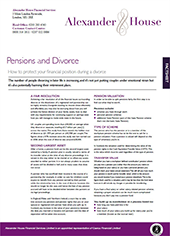 Pensions and Divorce
How to protect your financial position during a divorce
---